The complete list of songs streamed on May 16th, 2023 at twitch.tv/wonkknow.
-1. Hercules and Love Affair feat Antony Hegarty – Blind (Frankie Knuckles Mix)
0. Mr T – Just Say No PSA
1. Bodhi & George the Poet – My City
2. iiO – Rapture (Andor Gabriel & Max Well Remix)
3. Janet Jackson – That's the Way Love Goes (DJ Antoine Qua, Willie Wonk & Costa Remix)
4. Prince – 17 Days (Zach Witness Remix)
5. Soul II Soul feat Caron Wheeler – Back to Life (However Do You Want Me) (Masters at Work House Remix)
6. k.d. lang & Tracy Young – Constant Craving (Fashionably Late Extended Remix)
7. Lou Rawls – You'll Never Find Another Love Like Mine (Frankie Knuckles & Eric Kupper Remix)
8. David Bowie – Golden Years (TOKiMONSTA Remix)
9. George Michael – Careless Whisper (DJ Ashes Remix)
10. Judy Garland – The Man That Got Away (Eric Kupper Remix)
11. Mark Knight & René Amesz feat Tasty Lopez – All 4 Love
12. Fresh Mode vs Montell Jordan – This Is How We Do It
13. Normani – Motivation (Eric Kupper Remix)
14. Whitney Houston – It's Not Right but It's Okay (DJ Iván Santana Remix)
15. The Shapeshifters feat Billy Porter – Finally Ready (David Penn Remix)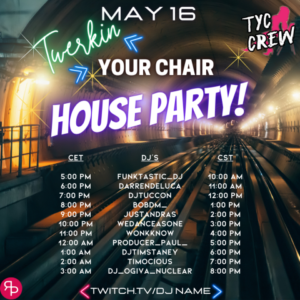 This was originally thought to be Audio Delights #365 when it was broadcast, but a numbering error was discovered on October 3rd, 2023. This post reflects the corrected number.