The complete list of songs streamed on April 15th, 2023 at twitch.tv/wonkknow.
-1. Visage – Fade to Grey (Moreno J Remix)
0. Single All the Way (2021) – The Gays Just Know How to Do Stuff
1. Soft Cell – Tainted Love (Freejak Remix)
2. The Prince Karma – Later Bitches
3. Scissor Sisters – Let's Have a Kiki (Robin Skouteris Kiki in the Park Remix)
4. Queen – Another One Bites the Dust (C3T Edit)
5. Lil Nas X – Star Walkin' (Vandal On Da Track Remix)
6. Sam Smith feat Kim Petras – Unholy (Disclosure Remix)
7. Eats Everything – Honey
8. MIKA – Yo Yo (R3HAB Remix)
9. David Bowie – Rebel Rebel (Joman Club Mix)
10. LF System – Afraid to Feel
11. Benny Benassi vs Divine – Able to Native Love (Step by Step)
12. NERVO feat Kylie Minogue, Jake Shears & Nile Rodgers – The Other Boys (Vigiletti Mix)
13. Heather Small – Proud (Division 4 & Matt Consola Remix)
14. Lady Gaga – Born This Way (Dada Life Remix)
15. Frankie Goes to Hollywood – Relax (1DAFUL Zoolander Remix)
16. Cher -Believe (Barry Harris & Dark Intensity Remix)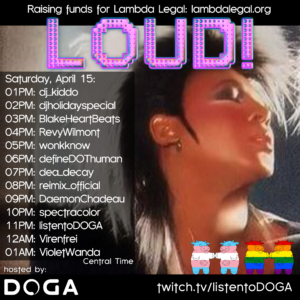 This was originally thought to be Audio Delights #300 when it was broadcast, but a numbering error was discovered on October 3rd, 2023. This post reflects the corrected number.